Quality Alert – Seat Sling for Select ExoFit™ Harnesses
Only Affects select ExoFit™ harnesses manufactured from June 2017 to the end of May 2018
3M Fall Protection has received reports that the aluminum reinforcement plate used in the seat sling on certain DBI-SALA ExoFit™, ExoFit XP™ (inc. Arc Flash), and ExoFit NEX™ (inc. Arc Flash) harnesses can become dislodged from the webbing. In a few instances, the aluminum seat plate has separated from the harness and fallen to the ground, creating a potential dropped object hazard. There have been no reports of injuries or accidents associated with this condition. The performance of the harnesses is unaffected by this issue—they will perform properly in all respects, including as body support for a personal fall arrest system in the event of a fall, even without the added comfort offered by the seat sling.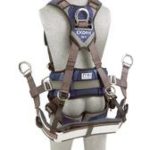 View the full quality alert here DBI-SALA Select ExoFit